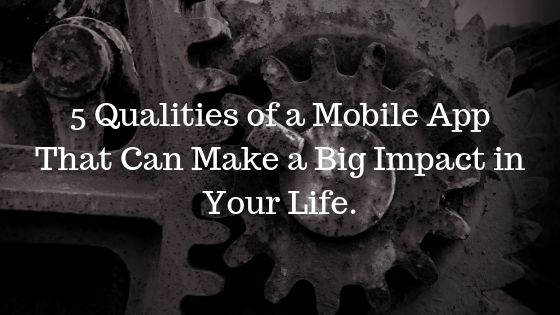 If you put the thought in a box, mobile apps are all the same in some aspects. The general usage, purpose, and accessibility are all the same. Though some apps don't require an internet connection to utilize its functions, caliber apps carry-out their products through the internet. But what really are the top 5 qualities you must look into an app, in terms of practicality.
User Interfaces are always in the frontlines, not only in the mobile app world. But everywhere. If you look into a Magazine, the first thing you'll notice is its cover, then you'll begin to notice colors, layout and all. First impressions always last. To find an app that makes a good impression on you towards its UI, and keep in mind that A good user interface compliments with its user-experience.
Fast Loading and High Performance.
Of course, once you have been frustrated to your wits because your website lags due to numerous circumstances. So it is also important for an app to deliver and serve its purpose seamlessly.
Mobile apps' purpose is to efficiently do certain tasks with a user-friendly environment. Making things interconnected in one app, disregarding the possibility of having multiple apps work all at once just to get what your customers want. Plus, it lessens the clutter on your mobile phone saving every bit of your storage for other things.
Of course, no one installs an app, unless they need it. A basic principle of "only get what you need". It will definitely be an eyesore to see a lot of apps you barely use on your phone, plus the fact that it strains your phone's potential performance long term.
With a wide array of mobile phones running on different systems, it's really hard to compete when your app only runs under one operating system alone. A mobile app that runs with a different OS is still a must-have.
Bizmoto is a mobile app that has the above-mentioned qualities. Offering its users with a way of earning extra, as well as giving them an opportunity to ease their daily routines. It also has diverse functions with an e-commerce platform and a curbside delivery service all in one. Bizmoto is available on both Android and IOS.